Automatic Chemical
Metering & Dispenser Kit
for RV & Marine Toilets
U.S. Patent Number 4,984,306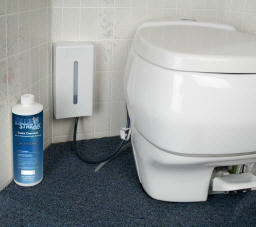 FULLY AUTOMATIC

Each time you flush, Blue Streak Chemical is automatically dispensed into your system.

OVER 400 flushes to one quart of chemical


CLEANS and DEODORIZES
Pleasant "baby powder" aroma.

ECONOMICAL and CONVENIENT
Eliminates guessing. Finally a dispensing system that uses a non-electric chemical injector that controls the correct amount of chemical with every flush. Other products require a full 8 ounces for treatment. Blue Streak Chemical is carefully measured each time so you only use precisely what is needed - no waste or spillage.

ENVIRONMENTALLY FRIENDLY
Non-Formaldehyde based.
Blue Streak Dispenser
How It Works
Call to order 1-888-832-5711