We service and repair all NuTone products.
Once our Technician has had the opportunity to examine your item, you will receive a telephone call or e-mail, outlining what the repair cost will be. Please note, we currently have a several week backlog, and will get to you item as soon as we can.
Thank you for your patience!
------------------------------------------------------------------------
Here's a sampling of some of the NuTone items we have in stock. Please call for pricing or to give your specific needs. (215) 442-1100.
Click on the picture for a larger view:
Power units 250 OUT OF STOCK

Mixer Sets 271

(out of stock at this time)
Food processor sets 256N (out of stock at this time)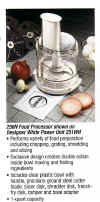 with base powered

Juicer Set 173N (out of stock at this time)

Blender 272 OUT OF STOCK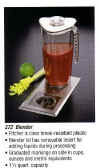 Shreader/slicer

In addition, we carry hard-to-find NuTone products and parts, including parts for the NuTone food processing centers. We are currently cataloging our inventory, and will soon have a list on our web site of what products or parts are available. In the mean time, please contact Karen at "Ham" Buerger, Inc. via Phone -- 215-442-1100, FAX -- 215-442-1912, or E-mail -- Karen@ham-buerger.com.
If you FAX or E-mail, please be sure to include your name, address, telephone number, and list of specific items you're seeking. We are currently adding names to our "Wanted List" as we update our Inventory, and will contact you in the order that your name is added to our list. Thank you.
"Ham" Buerger, Inc.
1520 Campus Drive Suite I
Warminister Pa 18974
(215) 442-1100